Introduction
Core-Asset Consulting's Salary Guide 2021-2022 is a combination of market intelligence, salary data, and insights and analysis from our consultants.
It is designed to assist clients in setting competitive remuneration levels in the year ahead, as well as helping candidates assess their career path and inform their next move.
Whether you are looking to strengthen your business or enhance your career, we hope you will find this guide of value.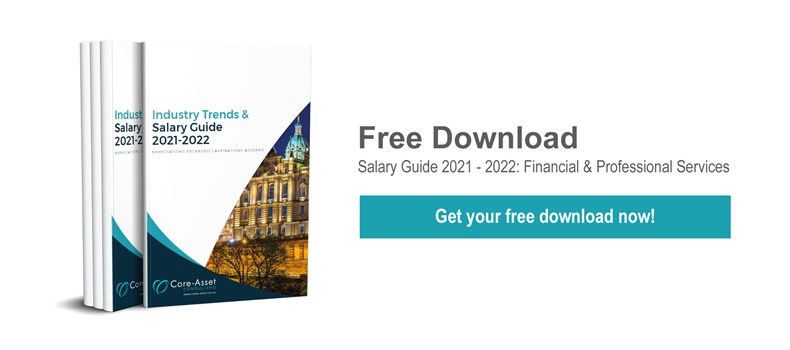 ---
1. Overview
Betsy Williamson
Managing Director - Execuitve Search & Specialist
The UK's exit from the European Union
The UK's exit from the European Union was effective from the 31st of December, a deal was agreed at the last minute, effectively avoiding a 'hard exit'. Whilst this new agreement provides a structure for the United Kingdom as a whole, for Scotland it will undoubtably bring its own national challenges.
The political and economic situation surrounding Brexit over the last four years, together with the prolonged period of inertia leading up to the exit, has most definitely had a negative impact on the investments and financial services sectors in Scotland. There is a direct correlation between political instability and levels of corporate confidence, especially so in the investments and financial services markets which tends to operate with a global lens.
The number of variables that this uncertainty produced was complex and both industry and sector specific. Companies needed to consider key issues around the import and export of goods and services, the free movement of people, tax, laws and regulation, supply chain, business provision, and market registration and distribution. Collectively speaking, uncertainty around these factors resulted in companies adopting a 'wait-and-see' approach as the UK Government waded its way towards the current agreement. Many took the stance that a hard exit was a distinct possibility and worked towards contingency plans on this basis.
There was almost an audible sigh of relief when the new trade deal was finalised, helping to bolster the UK's standing with the EU, however, the details of the agreement were buried in a 1,500-page document released on Christmas day.
Looking back: The retrospective view of 2019 and 2020
As a result of the preceding political and economic situation caused by Brexit, cost-cutting was the dominant theme in the financial services sector within Scotland. This was driven by a number of large industry mergers and a focus on controlling costs. Sector consolidation created an hourglass shaped market, with well-established global players at the top, a few mid-sized companies in the middle and a large number of boutiques and fintech start-ups at the bottom.
For some candidates, there were limited career options or the career 'catch 22', with most facing the dilemma of limited progression in a small company or risk becoming a cog in the wheel in a larger organisation,
Diversity was also a key focus; attracting, retaining, and hiring female candidates into traditionally male dominated fields took centre stage, however, there was also a focus on positively increasing diversity agendas across all areas.
A common theme across all sectors was static renumeration. Faced with limited salary increases, candidates continued to seek out employers with strength and security across brand and reputation, at either end of the scale.
COVID-19
To control the global spread of the virus, a number of precautionary measures were implemented by the UK and Scottish Governments, effectively leading us into a set of enforced national lockdowns. Physical distancing, the wearing of face masks in public places, frequent hand washing and sanitation and the closing of mass gathering spaces including offices, schools, universities, shopping centres and leisure facilities, have all become an integral part of 'normal' life.
The economic impact of the lockdown measures for many industry sectors, specifically travel, hospitality, retail and leisure, has been catastrophic. The forced closures have led to widespread business failures, redundancies and increased job insecurity. The Government has extended income support to affected business and individuals by way of furlough schemes, loans and deferral programmes for business tax and rates, however, it is too early to say what the longer-term ramifications to these sectors will be or what increased financial stimulus packages will be required to reignite the embers of the economy.
The measures implemented to control the spread of the virus have completely disrupted our homes and workplaces, and for many, merged them together, altering the view of the traditional office and normal working patterns.
Although in a corporate sense there has been a slow shift towards flexible working, historically there was a general reluctance in many sectors to fully embrace the concept. Whether it was the view that employees who worked flexibly lacked the drive and motivation to be productive, or an unwillingness of the employer to relinquish management control, many companies failed to engage with the positive side of not being 'tied to a desk'. COVID has forced a change to this collective mindset.
Equality, diversity and working women
Over the last decade, UK companies have worked hard to implement polices to increase female representation at a senior level and address the problems of female under-representation in Board-level roles. This culture shift is coinciding with a more digital-based society, all of which is being propelled forward by the impact of the global pandemic we now face.
Reflecting and respecting diversity in our online work environments is as equally important now as it was within our previous working constructs. With much of the working world now digitally-based, activists and experts have begun calling attention to how gender bias and discrimination can also occur in virtual space.
There is a very real probability that women could be disproportionately affected in the current working environment given need to address the challenges posed by childcare obligations. The sudden and total disappearance of childcare options has placed enormous pressure on working women as they need to cope with virtually two full-time jobs, both blended together in one space. Individual personal conflict can arise where the challenge of succeeding in one environment means sacrifices in the other. Cultural norms and the expectation women place on themselves can mean they are psychologically pushing against personal barriers, with the worst-case scenario being that women's careers become additional casualties of this crisis.
Companies could find themselves on the brink of inadvertently pushing out waves of women if they don't acknowledge cultural barriers online and accommodate the challenges faced by working parents, especially for those with relatively young children. Failure to do so could reverse the hard work and ground gained in increasing diversity agendas over the last ten years.
Environmental, social and corporate governance investing (ESG): 2021–22 and beyond
The impact of COVID-19 has continued the trend of drawing employees towards socially responsible organisations and opportunities. How we live and work and the collective impact of our actions on each other is more evident now in the wake of the global pandemic. We are all experiencing the global effects of our collective actions. Finally, we are seeing the 'bigger picture'. Prior to the current global health crisis, many firms dedicated a huge number of resources to the 'environmental' element of ESG. Moving forward, the 'social' and 'governance' elements will become increasingly important.
The pressure for fund managers to comply with ESG principles is now a pincer effect. There is increased expectation from clients and investors for companies and stocks to meet with changing perceptions on green, renewable and climate-based issues, together with enhanced UK, EU and global directives on climate change.
To remain relevant and avoid the risk of becoming obsolete, fund managers and investment portfolios need to continue to enhance and increase the factoring of ESG issues and frameworks into their investment construction process via investment research, theses and financial models. Historically, ESG was separated from portfolio management and sector analytics, however, from a recruitment perspective, we are starting to see this change...
---
2.Fund Management and front office
Market Commentary 
Over the preceding years, as a direct result of market consolidation and polarisation, many of the larger companies have been in cost cutting mode. Head count reduction and streamlining of processes has been a key focus as operational cost versus income equations were sought. With the longer-term impact of these strategies starting to have a positive effect by Q1 of 2020 many of the larger houses had started to rebalance and stabilise. The constant flow of market redundancies had started to abate somewhat, turning into a slow drip.
With this backdrop in place, during early 2020, vacancies across all sectors had started to gain traction with a specific focus on regulatory risk, investment risk and market risk. Fund compliance, fund registration and key operational roles also took centre stage. Retail and institutional marketing, technical sales, client service and investment specialist positions (ideally for those with European language skills) were also in relatively high demand. The Investment Management Certificate (IMC) and Chartered Financial Analyst (CFA) qualification were required for those operating in front office and middle office positions. The highest volumes of hiring was at mid to senior level, with those having 5-10+ years' experience being in peak demand.
The volume of vacancies for experienced investment analysts, portfolio managers and fund managers was stable during 2020. A number of senior level positions were required by some houses, refilling the gaps left by senior industry individuals who had exited to set up owner-run businesses, and junior level recruitment in this area was predominantly achieved directly via the use of in-house graduate or development programmes. Discussions on succession planning and diversity in investment teams continued to be top agenda items that required addressing.
Excluding the above, the biggest driver for recruitment in the front office was the impending impact of Brexit on operational fund and registration capabilities and wider company mergers and/or consolidation. Having weathered the continual hiatus around the exit from the European Union, and implemented as many contingencies options as possible, the collective mindset of 'move forward regardless' seemed to prevail.
The national lockdown in March 2020 forced the closure of all offices and as a result many mandates to recruit were placed on hold as the sector collectively moved towards remote working.
To its benefit, Fund Management operates with an inherent interconnectivity to technology, the very global nature of the industry has always meant a reliance on IT infrastructure, as such, the ability to position itself towards a home-based model was easier to implement and more possible than perhaps many had initially conceived.
It may have been a result of generational creep or the spotlight and regulatory requirement to report on diversity statistics and equal pay, regardless, there was a definitive shift in the realisation that flexibility mattered.
---
3. Legal
Market Commentary
Generally speaking, pre-pandemic, the profitability of legal firms in Scotland was lower than the rest of the UK. Analysis of historic income and profit and loss accounts demonstrate that whilst legal firms in Scotland were generating increased volumes of work in the lead up to the pandemic, overall, this work was priced at a lower profit margin. In part, this was due to clients seeking more clarity on fee levels, the demand for fixed-fee models and tighter control on client budgets. This, together with economic disparities on salary levels and the cost-of-operation differences between Scotland and cities such as London, resulted in relatively significant commercial impacts to the firms based here.
As a direct result of this financial pressure on profitability, over recent years, a number of global law firms have merged with well-established Scottish practices. These mergers offered financial stability, growth and the maximisation of client propositions via a global and/or UK-wide service network.
Excluding the cultural and people elements of integration, one of the key platforms for success is technology. IT integration can dictate merger timetables. The smooth and functional importance of operating platforms, workflow management, document creation and billing systems are all critical components to be correctly managed. Partly driven by industry consolidation and propelled forward by COVID restrictions the speed of technological change and innovation in the legal services market needs to pick up pace. Scottish legal firms still have ground to make up before they can claim to have fully revolutionised case load management and workflow through the use of technology. At its best, once captured at source, information should never have to be retyped or reformatted. Technology and automation should encourage and enable everyone – secretaries, paralegals and partners – to work at the higher level of productivity, removing the need for the repetitive tasks that still permeate the profession. Technology offers new opportunities and greater efficiency to be embraced.
Increased technological advancements will likely create new roles and opportunities in the Legal sector. For the clients of legal firms and in-house lawyers, the increased global connectivity and reliance on technology highlights the importance of lawyers in identifying and reporting on money laundering and other forms of fraud, together with issues such as cyber security, compliance and business ethics.
Indeed, Brexit, increased regulation, GDPR and corporate governance have continued to dictate the direction of the legal market. Legal firms have shown resilience in using these changes to their benefit. Clients have required additional support and advice around the potential impact of impending regulations and the implementation of new frameworks and this has led to an increased demand for solicitors with regulatory and immigration experience, ensuring companies do not fall foul of regulatory changes, and that their workforces are fully protected.
---
4. Investment Operations
Market Commentary
Scotland is, and will remain, a strong centre of excellence for Investment Operations, this is primarily due to the historic roots of the sector, established talent pool and well-established footprint of the companies located here. Generally, Scotland continues to be a key hub for larger, more global companies in this space and from an investment operations perspective there is a continued trend to relocate more technical roles to Edinburgh and Glasgow from other global processing hubs.
In a constrained market, where companies are competing for talent, looking to attract niche skills, and where there are limitations on salaries, employer brand, market reputation and employee benefits are key differentiating tools, as is the need to move quickly when suitable candidates are identified.
During 2020, the recruitment market remained relatively constant with both global businesses and boutiques looking to add specialist head count. This created an interesting divergence of career choices and cultural options for those seeking to move roles. For many, the opportunity to work in a smaller business held appeal, allowing direct ownership of tasks/projects and exposure to senior management. For others, the structured career paths that larger companies offer allowed a clear development path. It was encouraging to see both these types of businesses growing head count requirements within early 2020.
At the start of lockdown in March 2020, a number of the investment operations businesses in Edinburgh placed recruitment on hold as they facilitated the transition to remote working and focused on the process of simplifying the onboarding of any new starters. Interestingly, for new starters there was the introduction of 'expectations' within the referencing process, specifically around Disclosure Scotland and educational checks. This enabled candidates to start their new positions within a relatively tight timescale, and to balanced out the verification process, given the overall slowing down of reference responses times as a direct result of COVID restrictions.
Those market skill sets in demand included fund accounting, pricing, investment administration, settlements, transitions, client service and corporate actions. The level of these positions was heavily spaced, with vacancies at the more junior and senior end of the scale; the largest market void was for mid-level head count and a senior executive level.
With respect to candidate availability, there has been an increased concentration of senior level candidates available; a direct result of the aforementioned restructuring and global mergers, specially within the asset management sector. For those individuals who have been directly affected by these market changes, the recommendation is to widen both their location and sector criteria. It is not anticipated that we will see a recovery in either the upper mid-level or executive level recruitment (within investment operations) for a significant period of time
---
5. Business Support
Risk & Compliance
Market Commentary
As a direct result of the pandemic, recruitment within the Scottish Risk and Compliance sector was relatively quiet during 2020. As lockdown took effect in March 2020, a number of mandates to recruit were placed on hold and overall, recruitment in the sector was in low demand for the remaining proportion of the year.
However, as Q4 2020 started to emerge there was increased activity in this space. A small proportion of the larger financial services organisations started to seek support with issues related to financial crime, and as a result, headcount increases in this area were required. These additional resources (people) were required as a direct result of increased online activity by customers and users and were in part driven by regulatory changes to operating models in light of Brexit. Predominantly, these roles were at the mid to senior end of the scale where professionals had experience of drafting policies and/or implementing best practice frameworks.
During Q4 2020 and into Q1 of 2021, there was also increased demand for individuals with UK regulatory compliance knowledge, again at mid to senior level, together with overseas regulatory exposure. Knowledge of European market regulation, including the experience of marketing or passporting into other countries, was in particular demand, specifically by firms wishing to expand operations in light of the current economic operating climate. US market experience was also of particular interest.
Business Support Services
Market Commentary
During 2020, business support recruitment was severely impacted by the impact of the global pandemic. With forced office closures and imposed working from home policies in play, a large proportion of support roles from office and team administration and facilities management, to secretarial and personal assistant positions, were subject to redundancy. There were also a large number of headcount reductions in areas such as human resources.
Recruitment across marketing was also relative quiet during 2020.
A small selection of global investment houses continued to recruit actively across marketing communications and investment communications, however, the volume of roles and demand from clients in this area remained relatively low.
Sadly, from a candidate perspective there are a large number of experienced individuals actively seeking new opportunities in these fields. Supply outstrips demand at present and there are limited opportunities available.
Salary levels during 2020 and into 2021 remained relatively static with only marginal cost of living increases being evident. This is most likely as a direct result of the client-driven market and the increased availability of candidates to vacancies. It is projected that these market dynamics will continue well into 2022.
---
6. Private Wealth Management
Market Commentary
The crisis has impacted the private wealth management sector on multiple levels and firms have had to adjust their client engagement models in order to remain a trusted partner to their clients. Although the wealth management industry today is more regulated, and in a better operational position than at any other point during its history, to meet the continued challenges of this crisis firms will need to embrace the latest technology or run the risk of disenfranchising even the strongest client relationships.
People (human capital) are a private wealth firms' biggest strength, serving the needs of clients, managing the portfolio, conducting research, running operations, dealing with regulatory and compliance issues; the list is almost endless.
As a result of previous financial crisis', and with the continued emphasis by industry regulators on business continuity and risk and compliance, many firms will already have had detailed back up plans in place should a 'force majeure' occur. However, it's likely that these plans did not build in the contingency requirement for two-metre social distancing or for employees to work remotely from home for long periods of time. Rapidly transitioning the firm to operating a remote workforce, whilst handling increased client requests regarding stock exposure to affected regions, asset classes and sectors, together with managing day-to-day business volumes and streamlining digital engagement platforms will have been major impacting factors for business performance over the last 12 months.
If anything, COVID-19 has emphasised that while technology can augment and supplement work, it does not replace what is needed from humans. For private wealth managers this crisis has highlighted a greater appreciation for the fact that humans and technology are more powerful when working together than either can be on its own.
That said, general demand for candidates across all sectors of the industry stalled in the wake of the first Government lockdown in March 2020. Only business critical or essential appointments were made. The uncertainty of operating environment and ramifications of COVID-19 restrictions led to a number of firms cutting back on staff numbers, especially in supporting capacities as AUM and new business slowed. This was particularly evident in the first half of 2020. These decisions to reduce headcount did have a destabilisation effect on the sector overall and has led to an increased pool of immediately available candidates.
As 2021 approached there was a definitive shift of mindset and the demand for experienced investment managers and financial planners who could bring a book of clients with them re-materialised. Employers remained open minded and interested in proactively speaking with experienced market professionals who could add significant value and AUM to their respective businesses. Enticing and attracting these individuals to move companies is a complex and challenging task that requires detailed negotiations on both sides, even more so when conducting 'face to face' business is impossible.
---
7. Accountancy and Finance
Market Commentary
2019 was plagued by prolonged uncertainty on how Brexit would resolve and laterally, the General Election also disrupted market confidence. This, in combination with the consolidation of some large finance businesses and the offshoring of transactional finance roles, contributed to a general slowing in market opportunities which bled into Q1 of 2020.
This downturn impacted the availability of accounting and finance sector vacancies and resulted in a broadening of mindsets by candidates, with the commerce and industry sector being the main beneficiary. This dynamic carried into early 2020. Interest in start-ups grew, especially with a burgeoning fintech sector. Finance professionals were attracted to the potential growth from the 'ground up' and the entrepreneurial culture, along with a more expansive set of responsibilities and greater senior stakeholder exposure. This was reflected in roles where budgeting, forecasting, benchmarking and gauging IPO readiness were the key responsibilities.
In a landscape very much shaped by consolidation at the top and the emergence and growth of start-ups at the bottom, (particularly in the fintech and renewable energy sectors) many businesses adapted quickly to continue their hiring strategies. Utilising well imbedded technology, many global/international accountancy firms transitioned to the online recruitment model with ease.
There is always a perennial demand for accountants at newly qualified to five years PQE, and unsurprisingly, this was evident in the roles that did come to market during 2020. This demand was not just across financial services but also Commerce and Industry. Ambitious individuals at this level seemed undeterred by a slower market, recognising when a fresh challenge was required to maintain an upward career trajectory.
There's been a slight increase in decision support / business partnering opportunities and transactional services, as how to better harness and interpret data remains high on the agenda for many CEOs and CFOs. It will be interesting to see if more forward-facing analysis roles are created in 2021 as some firms look to the future and plan a route to organic or acquisitional growth.
---
8. Pensions and Fintech
Market Commentary
During 2020, Scotland has achieved accreditation by the European Secretariat for Cluster Analysis, the first UK centre to achieve this. As a key hub, the Fintech sector has continued to see growth as it provides tools and software solutions to meet the needs for more user-friendly platforms and applications. With over 150 established firms now operating in Scotland, demand for talent centred on artificial intelligence and automation.
This combined with the UK Government commitment of £300 million to support growth and innovation, means fintech plays a significant part in the economic growth of Scotland moving forward. Across all the industry sectors, fintech has perhaps seen the greatest expansion throughout 2020.
A sector that is well-embedded in truly agile working practises, it has continued to recruit without challenge throughout 2020 as remote working is the norm. Key demand laid with developers, particularly those with cloud technologies and technical architects that can work with clients to truly understand their needs and provide innovative solutions.
Key roles in demand:
Pension and Investment Consultants: This was across all levels though highest demand sat with those with around three to five years' experience.
Fund Research Specialists: This was across all asset classes as the uncertain markets lead to more scrutiny to support investment strategy decisions.
Pensions administration: As outsourcing to pension consulting continues to evolve core business models.
Investment Solutions Specialists.
Fintech – Business Analysts, Developers, Solutions Architects: As the financial service sector continues to require ever-increasing reporting and scrutiny to meet regulatory changes and client needs, these roles were in demand as the Fintech sector continues to provide innovative solutions.
A common theme across all markets from an employer perspective was static renumeration, especially so within the pension field. Salaries remained at similar levels and for some businesses bonuses were at significantly lower levels, if paid at all. Whilst salary played a part in the motivation for people considering a role throughout 2020, it was not the key driver. Flexibility post-COVID-19, the strength of the reputation of the business and being part of something different were the key attractions.
The Fintech sector has seen spikes in salaries in some areas up by around 20%. This is in part to the continued growth in the sector and for specialist skills having to raise salaries to tempt talent.
Whilst many businesses faced challenges in adjusting to business as usual, it was a positive factor that 2020 continued to see diversity and inclusion play centre stage. Clients across the Pension and Fintech sector strived to have a truly diverse workforce. The move towards fully-remote working throughout 2020 may have been forced, but it has allowed many clients to see the value in more flexible working practises without impacting productivity or security. This mindset shift on office location has also positively increased the representation of BAME and disabled workers and has addressed gender imbalance across the board.
---
9. Interim, temporary and contract
Market commentary
2020 was a year of extremes for the interim contractor community. IR35* reforms which, although deferred by the Government for a year, were largely implemented in most large financial services firms. This coupled with the impact of COVID on hiring plans and projects, decimated the contractor marketplace with a huge amount of specialist talent finding they were out of work at the same time. Competition for the few available assignments in summer 2020 was the fiercest we have ever seen with hundreds of applicants for each vacancy.
We have, however, in Scotland at least, witnessed a significant rebound in autumn 2020 that shows no signs of slowing as we move into 2021. Firms that took an understandably cautious approach in 2020 are now finding they are understaffed and behind on key deliverables and demand for short-term flexible staff has rocketed.
Fintech and Change
This area was the hardest hit by IR35 reforms with the many Ltd company contractors who work in this domain finding themselves no longer able to engage within some of their key clients via their own businesses. Many chose to move on rather than convert to a new engagement method. Hirers too looked to reduce their exposure and released all but the most critical of contractors.
However, as business realised some old project headaches would not simply go away, coupled with the need to adapt to new regulatory challenges, there was an ever-louder clamber for Fintech and Change staff within financial services as the year progressed.
Those who worked in the Asset Management and Life and Pensions sectors generally faired better than those whose experience had been gained in the Banking sector simply due to the fact their knowledge base was more in demand and they represent a smaller pool of talent.
Core business functions
This area remained steady throughout 2020 and was less impacted by external pressures due to the fact the roles in this area are fundamentally required for businesses to operate at a base level. We have, however, seen increasing demand for compliance professionals and governance staff as firms adapt to new product offerings and an emerging regulatory landscape brought on by Brexit.
Accounting and Finance
2020 witnessed a staggering growth in demand for short-term staff as the year progressed. This was down to the need for businesses to both apply controls and analyse spend during such uncertain times whilst at the same time adapting to changes in reporting standards and new technology implementations.
Business support
Another huge growth area as 2020 progressed. HR professionals were in demand as firms adapted to remote working; marketing professionals were in demand as firms looked to adapt their products and messaging; and customer service staff were massively in demand for the same reasons.
It's also notable to mention that we witnessed a spike in short-term illness cover requirements as COVID and the associated mental health impact took its toll on many.
So too was there an increase in demand for administrative hires to support firms and their staff with the extra burden and limiting impact that working from home and home-schooling had on many.
*IR35 is an anti-tax avoidance rule that applies to all contractors and freelancers who do not fall under HM Revenue & Customs' definition of being self-employed and as such are 'within' the scope of IR35. From April 2021, all medium and large private sector businesses in the UK will become responsible for setting the tax status of any contract worker they employ.
---
Methodology
The purpose of this guide is to provide insight into current salary and employment trends in the asset management, accounting & finance, asset servicing, legal and wider financial services sectors in Scotland.
The salary ranges quoted are indicative of salaries candidates with similar experience might expect to earn in 2021, and are exclusive of bonus and benefits. Contract and temporary day rates are based on a seven-hour day.
The information in this report is provided as a general guide only. Salary data is gathered from registering candidates, job offers and placements made through Core-Asset Consulting in 2020, including data gathered from our clients and our extensive database of candidates.
Additional market insight is provided by our consultants' knowledge and experience of market conditions.