Pre-employment Background checks
Many organisations still carry out their own background checks, usually within the HR department. This ensures that applicant engagement is high. But in-house vetting rarely has the volume of applicants to allow for the development of dedicated expertise, structured processes and efficient timelines.
Dedicated, third party vetting service providers follow best practice and work to a high standard of scrutiny. But they are removed from the recruitment process and as a result can sometimes suffer from lower levels of engagement, which in turn can translate into longer timescales.
Core-Asset Verify aims to provide a positive applicant and client experience, with exceptional service at the heart of what we do. Our approach is one of high engagement where we aim to keep all parties fully informed throughout the process.
Core-Asset Verify's vetting process offers clients clear insight into their potential employees, providing analysis of their occupational, criminal and financial history.
Based upon our findings, we provide clients with one of three recommendations. Our system is designed to identify and report genuine dishonesty and distinguish this from minor events.
Regardless of whether clients choose our silver, gold or platinum plan, they receive a detailed findings summary report along with our recommendations.
Our vetting service packages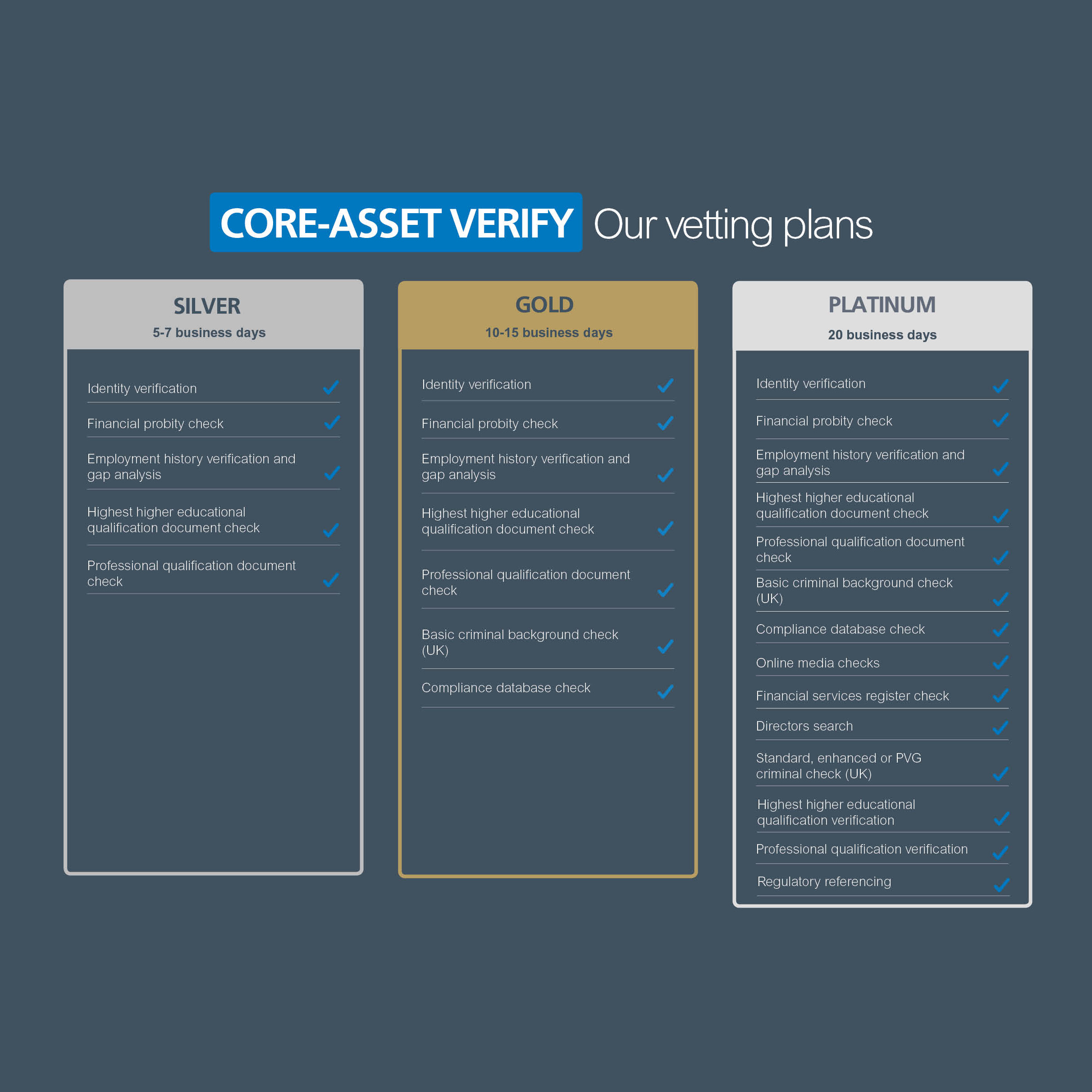 Find out more
Learn more about our vetting services and get in touch
Meet the team
Alternatively, you can find out more about our team here.
ABOUT CORE-ASSET VERIFY
We are the Vetting and Contract Services division of Core-Asset Consulting, a recruitment company dedicated to Asset Management, Asset Servicing, Wealth Management, Platforms, Pensions, Accounting, Finance & Legal Services in Scotland