For the last eight years, Core-Asset has produced a Salary Guide for Scotland's financial services sector.
It has become a barometer for pay scales that are closely monitored by employers and job hunters alike.
It identifies the issues that are important to job seekers and the trends and patterns over the preceding 12 months that are likely to impact businesses.
It is designed to assist clients in setting competitive remuneration levels in the year ahead, as well as helping candidates assess their career path and inform their next move. Uniquely, all of the data is entirely Scottish and the report sets expectation for those who are awarding salaries, allowing them to benchmark against competitor organisations.
Whether you are looking to strengthen your business or enhance your career, we hope you will find this guide of value.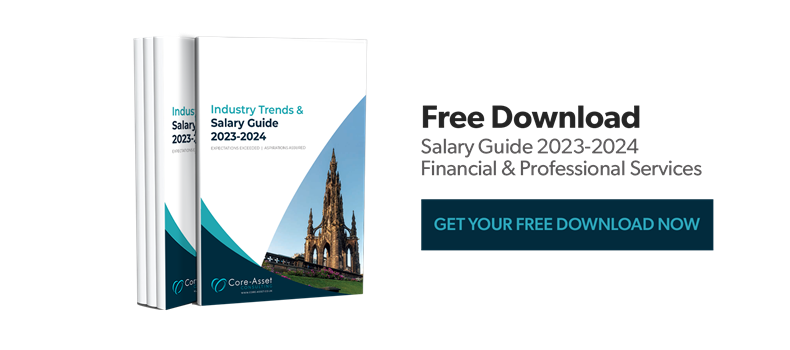 ---
S E C T I O N  1
Overview
The retrospective view of 2022
The UK & the European Union
ESG (Environmental, Social and Governance)
ESG Investing
The ever-increasing war for talent
The move towards digitilisation
Diversity, Equity and Inclusion (DE&I)
S E C T I O N  2
Market Commentary:
Fund management: Front office
Fund management: Middle office
Investment Operations
Accounting and Finance
Private Wealth Management
Risk & Compliance
Legal
UK Pensions and Insurance
Fintech
Interim, Temporary & Contract
Download Salary Guide 2023 - 2024
Access the latest market insights, candidate and employer resources
Get in touch
We'd love to hear from you
Latest Insights
Budget measures represent some positive steps, but questions linger over viability
Read more